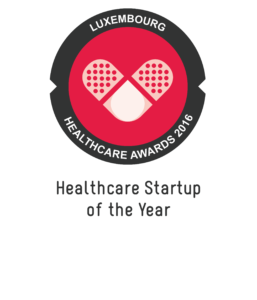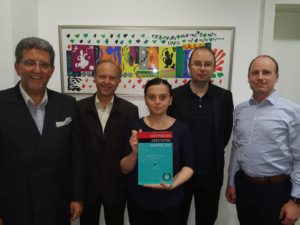 Black Swan LUX has been awarded "Healthcare Startup of the Year 2016" during the Luxembourg Healthcare Awards session 2016, an award granted by a jury composed of 16 experts from the healthcare sector.
The jury has chosen Black Swan LUX as the winner in the Startup category for the proven role of its innovative SafeLive solution dedicated to seniors.  As stated during the event by Stéphane Pardoux (Directeur Général, Centre Hospitalier Intercommunal de Créteil, France), decision makers in the healthcare sector are faced on a weekly basis with tens of applications aiming to help improve their services. However, these often lack essential features such as privacy by design, extensive testing in real-life scenarios or the adaptability to the end-users' needs.
SafeLive (www.safeliveapp.com)  is able to provide this unique blend of advantages thanks to the high-end and innovative autonomous Anomaly Detection CORE of Black Swan. SafeLive is a unique artificial intelligence high end solution for personal assistance. It automatically triggers alerts based on the person's unique profile, with no thresholds or predefined models involved.
With no data transfer or storage required, SafeLive is capable of processing and adapting in real-time artificial intelligence and personal behavioural models on wearable devices, thus ensuring the highest privacy standards. In close collaboration with the Luxembourg Data Protection Agency (CNPD) and the Privacy Commission (Belgium), even before the start of the project, SafeLive is built to embed existing and upcoming European directives in terms of data protection.
Thanks to its partner nursing homes and their proactive involvement at all the levels of the hierarchy, SafeLive is built on more than 5 months of continuous testing in real life environments and adaptation to real user needs before release. The solution can be used in a close environment such as a nursing home, but also for seniors living at home.
As a spin-off of the University of Luxembourg, the award acknowledges also the University's research impact and potential, as well as the role played by the Proof-of-Concept program of FNR in enabling research echoes in practice.
Thanks to all its partner nursing homes, the nurturing incubator environment at Lux Future Lab and the investors' trust, Black Swan LUX provides through SafeLive the power of real-life anomaly detection to senior's in search of a trustworthy, autonomous alerting system. The solution also allows care-takers to prioritize their workload and families to keep an eye on their dear ones, without having to impose restrictions (e.g. no geofencing required or panic button to be pushed). In case the senior gets lost, an alert based on the user's profile is automatically triggered and directed to the chosen circle of trust.
Black Swan LUX is now rolling out the first solution to seniors, and enhancing our product portofolio for use with further population groups (such as teenager surveillance).